For many youths, a well-known right of passage is heading off on a 'gap YAH' in between college/sixth form and university.
As you know, I'm a massive advocate for parring off daily life for a bit of travelling, however heading off on a gap year was not an option for me when I finished sixth form. Had I chosen to defer university for a year, I would have welcomed a substantially larger student loan into my life, following the... ahem... lovely Tories' decision to hike up university fees.
Not one to miss out though, my best mate and I planned a little interrailing trip for the September after graduation, so we could hold onto our university years for just a couple more weeks, before starting our careers in the real world.
We donned our backpacks and headed onto the trains of Europe, two incompetent map readers, excited for adventure. If you're thinking of doing the same, here are a few tips to bear in mind.
How to pack
Think hand luggage, but less. You're going to be lugging this suitcase/bag/backpack cross-country for HOURS on end. I opted for a rather large backpack (and, at just under five foot, it looked particularly large on me) that clipped around my chest and waist, while my best mate opted for a slightly smaller one, just over her shoulders. Both faired us well.
In terms of packing, you're only gonna have the bare necessities:
- Being "made up" is going to be more about a slap of lippy, rather than a full face of bronzer, blusher and the like, before you get any Kylie Jenner ideas. Also, get teeny tiny toothpaste, shampoo sachets, and basically miniature everything.
- Roll clothes to make them as small as possible, packing just over the right amount of underwear for each night, but only half the outfits - try and keep it to around three bottoms, and maybe six, or seven, tops that you can wear on rotation, and mix and match.
- Choose fabrics that you can easily wash in a sink and that dry easily, just in case you need to give 'em a rinse at any point.
- Your main bag should hold a smaller day bag and muchos plastic bags (for dirty/wet stuff), and everything in your bag can act as a buffer for souvenirs. Somehow, we managed to carry porcelain masks from our second stop in Venice all the way home, keeping them in one piece.
- Spray deodorant IS YOUR FRIEND.
- My friend also had the smart idea of bringing non-perishable snacks, which are great for in between meals, or late night snackage.
- Chances are, you'll be traveling with a fair bit of dollar on you. Split up your pennies into different parts of your bag and, also, ALWAYS keep some, along with your passport and EHIC, on your person. See if you can get one of those money cards, if you're not taking your credit card with you (though you may need it for proof of ID at your hotel). We also had a little book where we noted down our hotel info and key phrases in the different languages.
Be mindful of the check-in and check-out times of your hotels/hostels/b&bs. If you have a particularly early check-out, or particularly late check-in, you may end up lugging your bags about on your sightseeing adventures for a bit. It's worth finding out if you can store your stuff anywhere, for example, at the lockers in Gare Du Nord in Paris.
Trains
Obviously, when interailling, trains are a massive part of the whole shebang. Unfortunately, unlike the Interrail Pass would have you believe, it isn't as simple as just buying the pass and heading on your way. Boo.
On the Interrail website, you'll find a comprehensive list of the rail services across Europe that partake in the Interrail initiative (click here to go directly to the PDF). South Londoners, you'll be pleased to know Southern Rail isn't on the list (lolololol). For the ones that do take part, yes, all you'll need to do is buy the pass, and fill it out with your intended destination before you set off on that leg of the journey (make sure you do fill it out before you step on the train, though, otherwise you could get fined by a ticket inspector).
Don't fret if you require a train that doesn't appear on this list, though. It just means you a) may need to buy a separate ticket, or b) need to buy a ticket AND make a reservation. Erm, why am I going to pay MORE money after the pass, I hear you ask? Well, the majority of local and international trains you will take are covered once you hit the continent, but the additional costs you incur will be things like overnight trains. Avoid these and avoid fees. Seriously; avoid night trains like the plague, if you can. Our first train journey, Eurostar aside, was the overnight train from Paris to Venice. I had visions of The Tourist - that 2010 film with Johnny Depp and Angelina Jolie - as we boarded the train to make the same journey. Ah, cute, they have little cabins. Hmmm, sweet, the lounging sofas turn into beds. Err, shite, it's a bit claustrophobic. OH FUCK, BED BUGS. Mmmhmm. That's how it went down over the course of 14 hours.
Bonus, the tickets did come with pillows and blankets, and the rocking to sleep was quite soothing. That free-falling feeling you get when you're overtired, but actually happening in real life because of the train stopping? Not so much.
Hotels vs hostels
After the journey to Venice, we were SO grateful to be in a proper bed for the night. There is a common misconception that to travel 'properly', you have to slum it. Nah, mate. Not for us. And it doesn't have to be for anyone else either. The hotel in Venice was a simple 3-star abode, but we found it to be more than satisfactory. Scratch that actually - it was great! Staying in 3-star accommodation keeps costs down (so you can spend on actual experiences) and the majority put on breakfast as part of your room cost. You only need a base anyway, because you're out exploring all day, but you don't have the worries, or the reservations, of staying in a hostel.
That said, though, we stayed in two hostels while on our trip: one in Switzerland and one in Paris. The one in Switzerland was on Lake Brienz and the only accommodation we could find that didn't cost an arm and a leg. We spent an hour looking for it in the rain to find that, actually, we had passed it about ten times - I told you: we were not good with maps! Once inside, there was such a good vibe. The rooms and bathrooms were SPOTLESS and the staff were so friendly and helpful. Our time in Brienz was so restful (and so picturesque); I cannot recommend the village and the hostel enough.
Now, Paris... slightly different story. I love the capital of France SO MUCH but, let me tell you, that love ceases with its hostels. The last night of our trip was spent in the noisiest, dirtiest place I've ever laid my head (and you read about that train ride above). For someone who is known to be unable to get into bed without showering first, whether drunk, sober or physically maimed, I vetoed stepping in that shower, even WITH FLIP FLOPS. It was nassssssssty. Defo go hotel in Paris. Or b&b. Our b&b in Innsbruck was so lovely. You get your own room, but just had to share a toilet and (very clean) shower room.
Must dos
We did SO MUCH on our travels, but my personal highlights include the following:
- Generally just being in Venice, Italy: I had wanted to go to Venice for years. I love water and love Italy, so a combo of the two was perfection. We ended up getting so lost at one point, but the city was just so perfect and picturesque that it didn't matter. Well, it kind of did because we had a boat tour booked, but we just blagged our way onto another one later that day. Don't listen when people say it smells. We were there in the midst of a September heatwave and it didn't smell at all.
- The Hall of Mirrors in Versailles, France: Kimye spent hundreds of thousands of dollars to spend part of their wedding celebrations there and I can see why. The Palace of Versailles was exquisite and it was nice to get out of central Paris for a while (again, note that you'll need to buy a Metro ticket for that trip).
- Heading to the zoo in Innsbruck, Austria: Heading to the highest zoo in Europe was exciting in itself, as we passed all the huge coloured houses on our way. What I loved about Innsbruck as a whole was the feeling I got from the mountains that towered over wherever you stood. It felt like we were protected in a (massive) cove. The zoo itself was quite blase about their Health and Safety, but I loved it as you could get pretty close to the animals.
- The train ride between Austria and Switzerland: Just look at the beautiful view above! Like the train in Oslo, it pees all over the Central Line.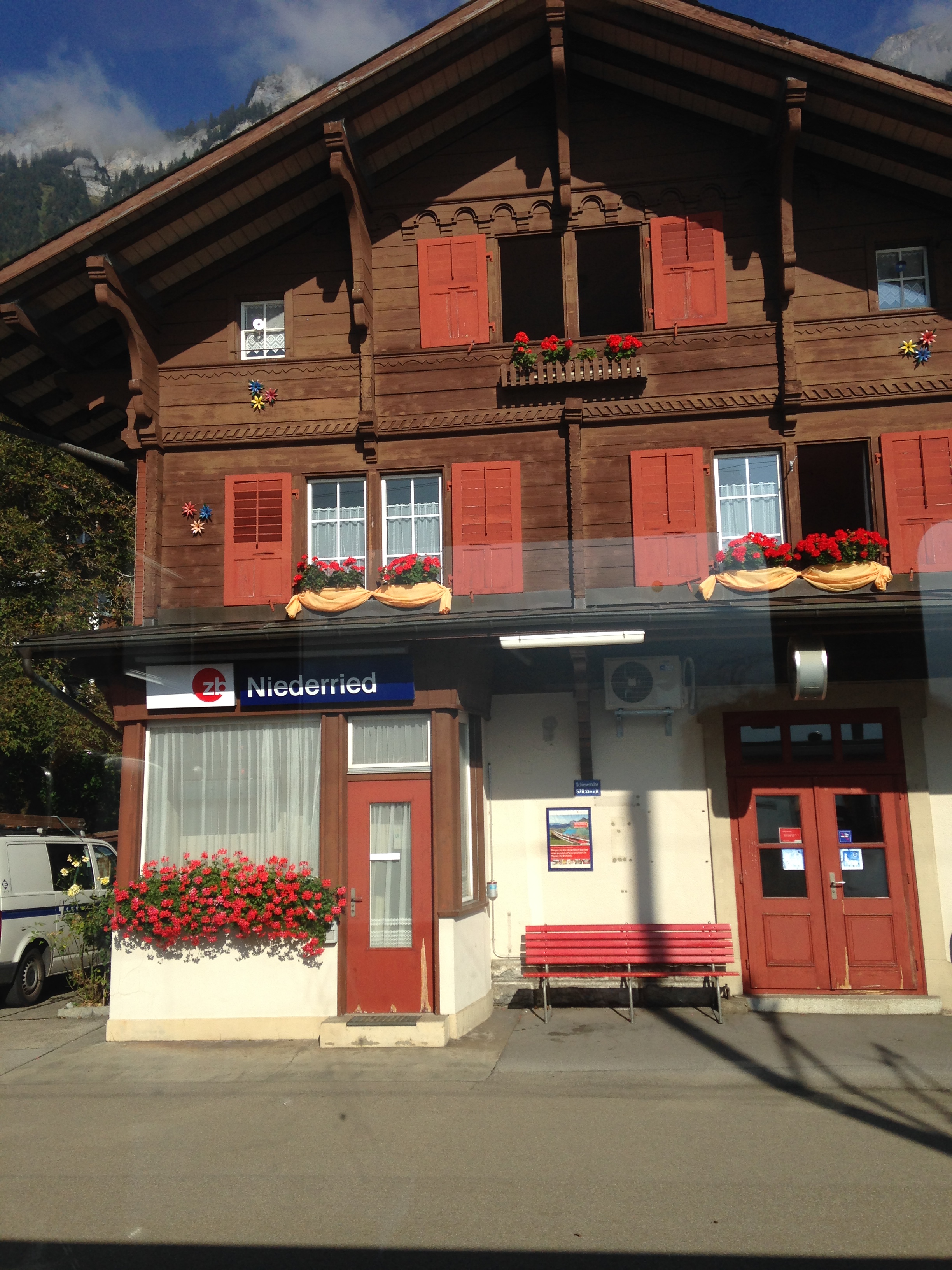 I could go on for hours and hours, and thousands and thousands of words, about my interailling trip, but it's commendable that you've got this far! If you have any questions about interrailing, or need any tips, just hit me up.